AW22
AW22
#15275 May 31, 1860 $100.00 Patrick. O. Gorman. Salary of Chief Clerk in the Treasurers Office. This his pay for May 1860. Born about 1820 in Ireland, little is known of this man other than he lived in Austin, Travis County, Texas as a border. He owned personal real estate of $5000 and personal property of $1000. It is indicated that he was Half (1/2) Deaf. All four corner tips cut off. Stamped PAID AU+/- $95.00 obv rev
request images

AW22
#15277 May 31, 1860 $116.66
George J. Durham
. Salary Chief Clerk Comptroller's Office for May 1860. Durham's signature is found on many Texas documents. PAID stamp, Choice AU/CU $125.00 obv rev
request images
AW22
#15446 June 25, 1860 $75.00 A. M. Wigginton, per (his attorney) J. M. Swisher. Swisher & Co endorsed on back of document. He was about 42 years old in 1860, was born in Kentucky and lived in Austin, Travis County, Texas. This is for pay as Assistant Clerk in the State Department for one month ending June 18, 1860. His occupation listed on Census of 1860 was Lawyer. Paid stamp, Ch Au/Cu $85.00
obv
rev
AW22
#15478 June 30, 1860 $116.66
George J. Durham
. Salary Chief Clerk Comptroller's Office for June 1860. PAID stamp, nibbles left end, AU+ $115.00 obv rev
request images
AW22
#
15481 June 30, 1860 Joseph E. Field, per J. M. Swisher. This warrant is for "Pension 6 Months" from the State for service in the Republic of Texas Army. He was a physician arriving in Texas in 1833. He would serve as a Soldier who was present at Siege of Bexar. He later joined James Walker Fannin's command and fought at Battle of Coleto where he was captured. He was spared at the Goliad Massacre so the he could treat wounded Mexican soldiers. He would later escape and hear the news of San Jacinto. He wrote "Three Years in Texas" which was published in 1836. He was living in Florida when this warrant was issued. Paid, Choice Au/Cu $135.00
obv rev
request images
SOLD
AW22
#15487 June 30, 1860 $100.00 Patrick. O. Gorman. Salary of Chief Clerk in the Treasurers Office. This his pay for June 1860. Born about 1820 in Ireland, little is known of this man other than he lived in Austin, Travis County, Texas as a border. He owned personal real estate of $5000 and personal property of $1000. He was Half (1/2) Deaf. Very nice and like previous, stamped PAID Ch Au/.Cu $115.00 obv rev
request images
*Another PO Gorman AW23 #17816
AW22
#15588 July 10th 1860 $250.00
Benjamin Franklin Shumard
. Salary State Geologist for month ending July 10th, 1860. Known internationally by his publications. Paid, Stains, edge rough, XF/AU $135.00 obv rev
request images
AW22
#15589 July 11th 1860 $7.00 Phelps & Johnson (Merchant) ":
Support of Blind Asylum
" for "Sundries furnished Blind Asylum". Today known as
Texas School for the Blind and Visually Impaired
. The Blind Asylum was created by the 6th Legislature in 1856. (J.S. Phelps & J. Johnson are mentioned in the Handbook of Texas in article on
New Hope
, TX (Dallas County). Both men had Texas Land Grants. Paid, Stains, corner tip off, XF/AU $120.00 obv rev
request images
AW22
#155929 July 12th 1860 $80.60 J. M. Williams, per
S. M. Swenson
, assignee. I couldn't find anything on Williams other than what is stated in the document. "Cost due Clerks & Baliffs & Attorneys" for "Cost due Sheriff of Smith County in Sundry cases."
J. M. Williams
was
Sheriff of Smith County, Texas
. Paid, AU $115.00 obv rev
request images
AW22
#15596 July 12th 1860 $28.26 Hermann Friedrich Bensemann. Bensemann was born in Hanover Germany in 1802. He arrived in Texas sometime before 1850 and became a citizen in 1854. He was paid for "Taking Scholastic Census 1859 & 1860 for Medina County, Texas. Reverse endorsement by George Durham, Chief Clerk saying that funds (in part) had been deposited to his account. Paid, few light stains and rough edge, XF/AU $95.00 obv rev
request images
AW23
Separation by Date

1) AW23a State: February 19, 1846 - January 31, 1861;
2) AW23b
2nd Republic (ie Unalligned State)
: February 1, 1861 - March 2, 1861
3) AW23c Confederate: March 3, 1861 - May/June/July 1865 (you pick a date)
State of Texas

AW23a
#
16,206 August 31st 1860 $662.50 Paid to the order of nine (9) different clerks. "Salary Nine Assistant Clerks Comptroller's Office" for the month of August 1860. HW Raglin, CR Johns, JB Costa, Ben Ware (sic is Weir), RD Harris, WA Pitts, JM Clairborne, JE Rector and AN Hopkins. Some of these names are known to Texana collectors. The most interesting aspect of this document is that there are three more documents attached where Weir, Pitts and Rector ask "Judge" C.R. Randolph to pay others their salary. Eight of the clerks were paid $75 per month and one was only paid $62.50. C.R. Johns who signs this document received one of the payments and endorsed the back. All the Clerks signed the back of the document except Weir who had someone sign for him. This is a great piece of Texas fiscal document showing how pay was allocated within the Comptroller's Office. Edge Stain & split, Paid stamp, Abt XF $150.00
obv
#01
#02
#03
SOLD
AW23a
#16273 September 19th 1860 $24.70
William Martin Barrett
, per M. C. Rogers (likely attorney). Rogers name is found on the back. Nothing much known about him except the 1860 Census shows him living in Huntsville, that he was born in Tennessee and was 65 years old (b.1795). This document is for "Salary of Three Directors of Penitentiary" for "December 1859 and 5 days of January 1860 from Quarter Ending 29 Feb 1860." There is nothing in Barrett's biography to indicate he was a Director of the
Huntsville Penitentiary
. He was an architect, contractor, Colonel in Mexican War and officer in Civil War for TST. Water stain at edge, Paid stamp, still quite nice, XF/AU $85.00 obv rev
request images
2nd Republic or Unalligned State
AW23b
#
16977 February 5th 1861 $7.50 Frank Gildart. State Department, "Services as Extra Clerk" for 3 days at $2.50 per day. The Civil War National Archive records show that Grank Gildart lived in Travis County Texas and was enrolled as a Conscript (drafted) Soldier. His name is mentioned in Brigadier General N.G. Shelly's papers. It seems that he was arrested as a possible deserter and held as a "Political Prisoner" by orders of General Magruder. A writ of habeas corpus was issued to show just cause. (Copy included). Light stain, decent Type, PAID stamp, AU+ $135.00
obv
rev
SOLD
Confederate -
I'm really not sure how to catalog these. Thought about
TW50
. They are same, only dates are different!
AW23c
#
17103 March 4th 1861 $18.00 Edward Clark. "Support Blind Asylum" for "Hire of Servant Adeline to Blind Asylum 1 Month to February 12th 1861". Civil War Governor Edward Clark (signature rev), who replaced Sam Houston as Governor, rented out his servant (Slave) "Adeline" to help out at the Blind Asylum during the Secession Convention. This is a Texas Slave Document and is Scarce! No stains, 2 edges rough, Paid, Abt. AU $175.00
obv rev
SOLD
AW23c
#17107 March 4th 1861 $56.00 F. Dohme. "10 Cords Wood for Comptroller's Office". This wood was most likely used during the Secession Convention. Little is known about F. Dohme. He was born in Hamburg Germany in 1833, he was 28 years old when this document ws issued and his home was Austin, Travis County, Texas. His profession was listed as Builder. Others in his household were listed as Stone Cutter and Printer. He indicated wealth of $4000 real estate & $500 personal property on the 1860 census. Paid stamp, Choice XF/AU $95.00 obv rev
request images
AW23c
#17343 March 25th 1861 $465.00
Alexis T. Rainey
Pay & Mileage Members of Convention. This is payment to Chief delegate of
Secesson Convention
from Palestine, Anderson County, Texas. He took $100 in advance to help defray his expenses from the Committee on Public Safety. He wrote a letter explaining what he did and instructed the Comptroller to tell the Treasurer to only pay $365.00. There is a letter attached to this warrant. Rainey organized a unit called Anderson County Invincibles at Palestine and they became part of the Frist Texas Infantry. He was elected Major and was later promoted to Lt. Colonel. After being wounded at Gaines' Mill, he returned and served on the staff of General John Bankhead Magruder down in Housotn. A facinating piece of Texas Fiscal History! All average Very Fine or better, $350.00
obv
rev
letter
AW23c
#17406 April 2d 1861 $143.24 to John T. Miller. Nothing is known of this man other than he was paid "Keep of horese, buggy hire &c" for the Geological Survey. Nice for Type, AU+ $95.00 obv rev
request images
AW23c
#17443 April 3d 1951 $75.00 to William M. Rust "Contingent Expenses Geological Bureau" for "Services of boy George as cook to Geological Survey".
Texas Slave document
. Wm. Rust rented his servant out as cook for the State Geological Bureau. Wm. Rust was a 2nd Lieutenant in Captain Wm Tom's Company
Texas Rangers
in 1855. He would be elected Captain, company of recruits for Carter's Regiment, Texas Lancers CSA for Burnet & Milam Counties in 1862 and is listed as mustering in at Camp Carter, near Hempstead. Choice AU+ $250.00 obv rev
request images
AW23c
#17448 April 4th 1861 $333.33
Beriah Graham
"Support &c of Lunatic Asylum". This was two months salary as Superintendant of
Lunatic Asylum
1 Feb to 1 April 1861. Endorsment on back for part pay of $100 May 24th and balance paid June 8th. Few worm holes, otherwise AU- $100.00 obv rev
request images
AW23c
#17463 April 5th 1861 $20.83
Abner Pickens Blocker (Sr)
per assignee George G. Simcox. I couln't find any information in the Handbook on Blocker, Sr., but there are bios for AP Blocker, Jr and his two brothers who became well known trail drivers. I found Geo. G. Simcox, who endorsed the warrant, on a document in the State Archive. He apparently was the assignee or executor of estate for George Hill, deceased. who died in the Woll Campaign, Dawson's Company 1842 in what became known as Dawson's Masacre. Hill lost his horse & equipment and his father was paid in 1855. This warrant is for "Porter hire to Comptrollers Office". No way to tell if this is a Slave document or simply hired hands who could have been Mexican, Gringo or Black. His ranch was in Blanco County. He was born in SC in 1822 and is buried in Austin. This is a very nice example for "Type" with one edge nick. AU+ $85.00 obv rev
request images
AW23c
#17474 April 6th 1861 $160.00
George Washington Wright
per
Micajah Louis Armstrong
. This warrant being for "Pay & Mileage Member & Officers of State Convention". Geo. W. Wright was a delegate to the Secession Convention for Lamar County (Paris). M. L. Armstrong was a Legislator representing Lamar County (Paris) and both their signatures are found on the back of this warrant.
They were both Unionist
. Wright would serve the Confederacy after secession as well as Armstrong who took an "Oath". Armstrong would later be a delegate to the 1868-69 Constitutional Convention. A rather different piece of Texas history. Paid stamp, VF/XF and clean overall. $145.00 obv rev
request images
AW23c
#17481 April 8th 1861 $180.00
James M. Burroughs
"
unreconstructed rebel
" This warrant being for "Pay & Milage Members & Officers of Convention." He was the Harris County representative to the Secession Convention. During War he was a scout and Major of artillery. Post War he would serve as President of the Galveston Wharf Company. There is a larger statement on the back and oddly it orders the assessor & collector of Sabine County to pay his expenses. He was on the Foreign Relations Committee and perhaps this payment was related to that purpose instead of coming from Harris & Galveston Counties &c. In any case, Burroughs endorses this warrant on both sides. Just his full name on the front and a full statement of receiving this payment May 10th 1861 on the back. Paid, XF $135.00 obv rev
request images
AW23c
#17718 April 30th 1861 $185.00
John Ireland
for "Pay &c Members & Officers of State Convention". He was Mayor of Seguin, Guadalupe County at time of Secession Convention. He would join the Army as Private and end service as Lt. Colonel. He would become Governor of Texas in 1882. There are a couple edge nicks at right end, Paid stamp, signed reverse, Guadalupe County &c, VF/XF $225.00 obv rev
request images
AW23
#178167 June 8th 1861 $100.00 Patrick. O. Gorman. "Salary of Chief Clerk in the Treasurer's Office". This his pay for April 1861. Born about 1820 in Ireland, little is known of this man other than he lived in Austin, Travis County, Texas as a border. He owned personal real estate of $5000 and personal property of $1000. He was Half (1/2) Deaf. Very nice and like previous, stamped PAID Ch AU $115.00 obv rev
request images
*Another PO Gorman AW22 #15275
..................
Texas German History
........
Father of Texas Botany
Wikipedia
Ferdinand Jacob Lindheimer
(
<Handbook
)
AW23c
#17782 June 5th 1861 $160.00 F.
F
. (sic is J) Lindheimer for "Printing for Convention" this amount for "printing of Constitution of the Confederate State, Address &c for the Convention". This document doesn't specificially say so, but the printing would have been in German. There are besides this warrant two other documents attached to it. One is a Duplicate of Exchange dated at New Braunfels June 13th 1861 for $140.00 to a Guntar Conrad on "The Treasury of the State of Texas, Austin" and that document is signed by Ferdinand J. Lindheimer Publisher N. B. Zeitung. F. J. Lindheimer was owner and publisher of the New Braunfels newspaper (established 1852) which is today known as New Braunfels
Herald
*
Zeitung
. Mr Conrad endorses that payment over to E. B. Child. The next document is statement by F. J. Lindheimer, Printer, for the State to allow $20 to Mr. W. von Rosenberg for the printing of the Constitution of Confederate States in German. W. Von Rosenberg endorses the back of that document. Another warrant tells us that Wilhelm von Rosenberg translated documents from English to German. Lindheimer is best known as Father of Texas Botany with many plants found in the State bearing his name.
These documents represent a very historic piece of Texas history!
I was tempted to dismount the other two documents and offer them individually; but, I have decided to list them as
one lot
. These items are very clean with the warrant XF/AU, the draft VF/XF and the letter XF+. Several images are provided so that you can see for yourself what these pieces represesnt. This item: $750.00
Images:
#01
#02
#03
#04
#05
#06
>>>>Related Warrant <<<<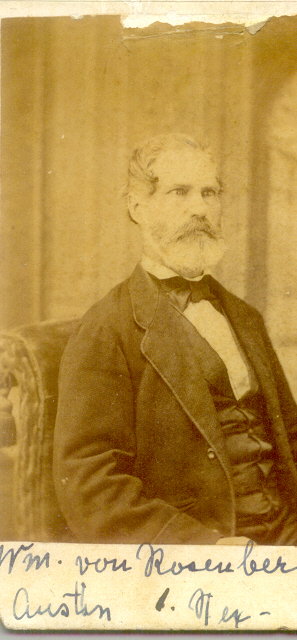 ROSENBERG, CARL WILHELM VON
(Handbook of Texas) aka William
Other images of Carl Wm. von Rosenberg
AW23c
#17478 April 6th 1861 $20.00 W. Von Rosenberg "Contingent Expenses of 8th Legislature" for "Translating the Constitution of the Confederate States" (into German). This payment for "translation" by the State was much earlier than the previous warrant to Lindheimer. He was paid by the State here and the latter to Lindheimer was most likely for translating the subsequent Address and any other documents which he printed. Top edge rough, few worm holes. XF+ $350.00
obv
rev
Image #2 borrowed from Family History of Von Rosenberg family (Other Images above is one of their links)
..........
Pair (Lindenheimer & Von Rosenberg) Together $1000.00 Firm!
Post War Texas
TW80
#816 8 March 1869 $50.00 to A. H. Longley & Co Longley was born in Missouri about 1840 and was 20 years old and living with the Mcgary family in Austin when the census was taken in 1860. He is found on the rolls in the National Archive as a Travis County, Texas Conscript and his name is listed in General N. G. Shelley's Texas State Troops papers as being No.89. That document is undated but lists 138 names of men between 18 and 50 years of age in District No.1, Travis County Texas who had not enlisted in the Army under the Law organizing the State troops approved 25th December 1861. There were no other service records for this man. By 1869 he was apparently in the printing business and was paid by the Comptroller's Office for printing various documents. ic, AU+ $115.00
obv
rev
TW80
#835 13 March 1869 $104.00 to
John T. Allan
"Pay of Employee &c Convention" John Allan has been called the "
Father of Industrial Education in Texas
". He was from Scotland, bookkeeper, carpenter, wheelwright, lawyer. Lived in Nacogdoches and later Austin. The Handbook says he went to Louisiana and was an officer in the Confederate Army; but, I am unable to find any records of military service in the National Archive material. I did find his name on Shelley's list of Texas Conscript as No.107. I don't believe he served as an officer. He was
State Treasurer
when the
Constitution of 1869
was held in Austin to make severe and drastic changes to the State Constitution. Very Choice, ic, Au/Unc $145.00
obv
rev
TW80
#840 13 March 1869 $24.00 to George Armstrong "Pay of Employee &c of Convention" John T. Allan was his "
assignee
". He is only found in "Confederate Citizen & Business" file in the National Archive material. The
Constitution of 1869
was held in Austin. Original size, ic, edge nibbling, XF+/- $95.00
obv
rev
TW80
#899 31 March 1869 $208.34 to
William Copeland Philips
for Salary of Secretary of State. Pay for month of March 1869 inclusive. This man was a staunch supporter of Sam Houston and a Unionist. He fought a duel with
John F. Marshall
over politics. Missing pieces but still a neat piece, ic, yet decent, $80.00
obv
rev